Sinter
Ceramic shell mold are sent to preheated sintering furnace after de-wax process. The temperature needs to reach about 1100 degrees and the purpose is to remove the residual wax and moisture and increase the strength of ceramic shell mold and the floating of liquid iron.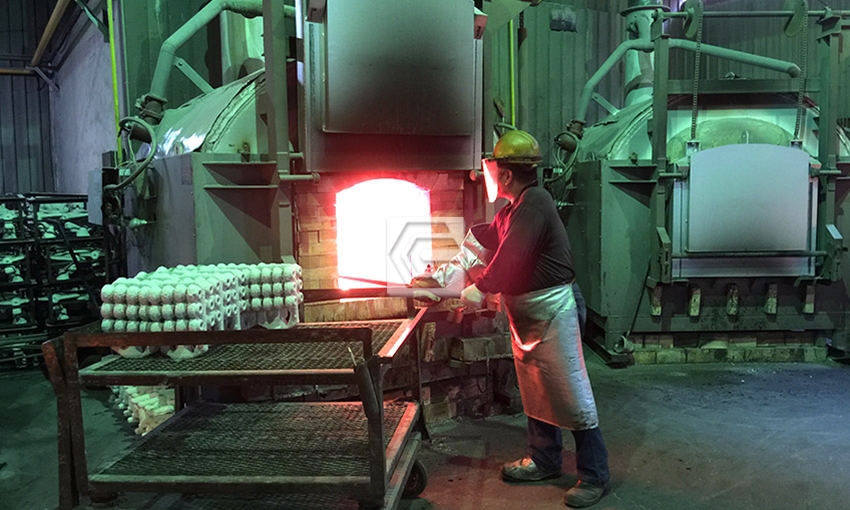 The ceramic shell mold send into a sintering furnace.
Melt
To compound different material ingredients such as stainless steel, carbon steel, alloy steel and special alloy is according to the client's request and demand.
To heat temperature of high frequency induction furnace till about 1600 degrees and shall be remove slag and gas to maintain liquid iron clean.
Melting.
Actual Temperature.
Melting Pouring
The compound ratio of liquid iron pours into the preheated ceramic shell mold and waits for cooling.
Melting Pouring.
Shell Removal
Remove shell by shell removal machine.
Sand Washing
Castings are sent to sand washing room to do the first time of sand washing and remove the most remaining ceramic sand after shell removal process.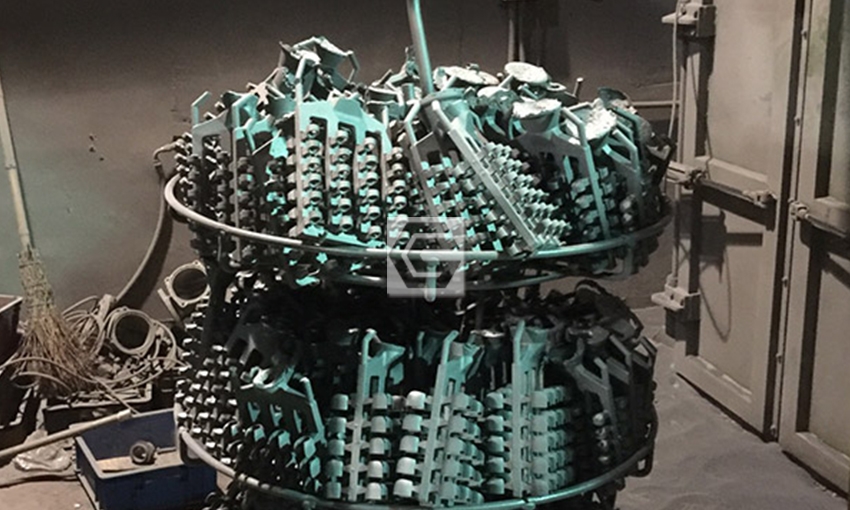 First step of sand washing.
Cutting
To use of the cutting machine to cut apart the required casting and die head.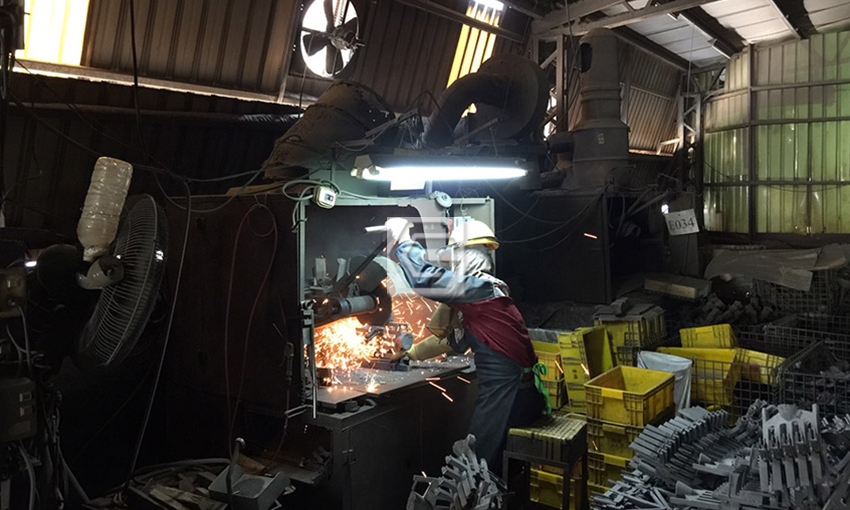 Cutting.
Grind
Grinding the gate and making it flat after cutting castings depends on client's request or demand.
Grind.
Weld Repair & Fix
If castings have some slight defects or burrs, the welding repair and fixing will be proceeded in order to improve the quality.
Weld Repair.
Repair.
Heat Treatment
According to customer's demand and request, different heat treatment can be chosen such as solid solution, normalization, annealing, precipitation and hardening and tempering.
Heat Treatment.
Pickling
Castings do final washing and ensure the corner of internal and external are no residual ceramic sand.
Pickling is called passivation treatment can chemically remove free iron and the external of the metal grain of the surface to become a protective layer against rust especially for stainless steel.
Sand Washing.
Straighten
1. Different types of casting may be deformed by external or natural factors and then the use of hydraulic machines and customized mold and fixture to reform casting within the standard size.
Straighten / Punch.
Straighten and check the dimension.
Visual Inspection
1. The inspectors check casting appearance to classify casting quality with good quality, welding repair and rejection.
Casting Quality Classification.
Dimension Inspection
Caliper is used common dimensional inspection for basic measurement requirement.
Caliper measurement.
High Gage is the main measure the height of object.
Measured by high gage.
Projection: Placed a casting on the platform suitable for use in an optical projection irregular curve.
Projection Measurement.
3-dimensional Measuring Instrument: The use of detector to knock against casting surface and get the location coordinates. It suitable for more complex measurements or geometric tolerances.
3-dimensional measuring instrument.
Gage: We can make gages or round rod gages and get quickly test according to customer's demand.
PIN GAGE.
Hardness Test
In accordance with customer needs to do different ways of casting hardness of heat treatment can be measured Rockwell hardness HRC and HRB.
Hardness Test.
Metallographic Microscope
In accordance with customer demand, we can make a specimen and viewed with a microscope. We can provide metallurgical report as we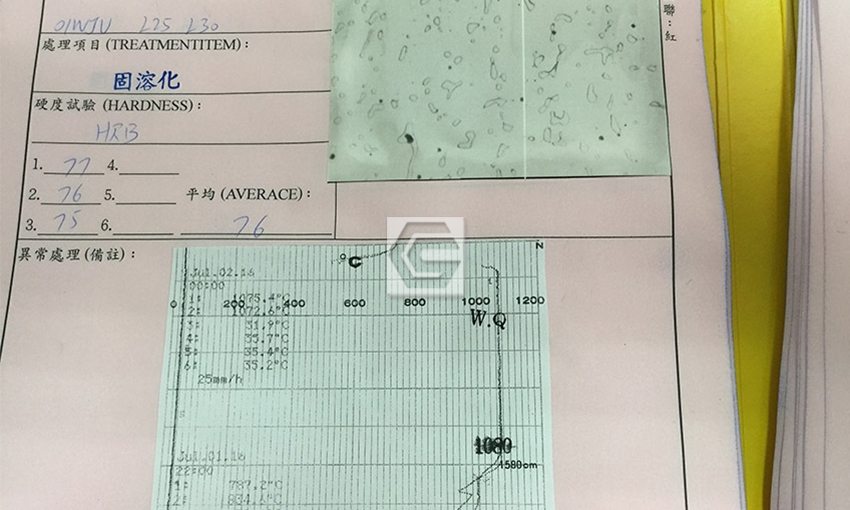 Optical Microscope.
Metallurgical Report.
X-RAY
We can provide test report to check the inner hole of casting.
X-RAY Test.
Leakage Test
We can make simple gage to test the pressure of leakage test.
Magnetic Particle Inspection
Magnetic particle inspection can be done to determine any tiny marks on the casting surface.
Magnetic Particle.
Physical Property
Make a tensile bar and do tensile test.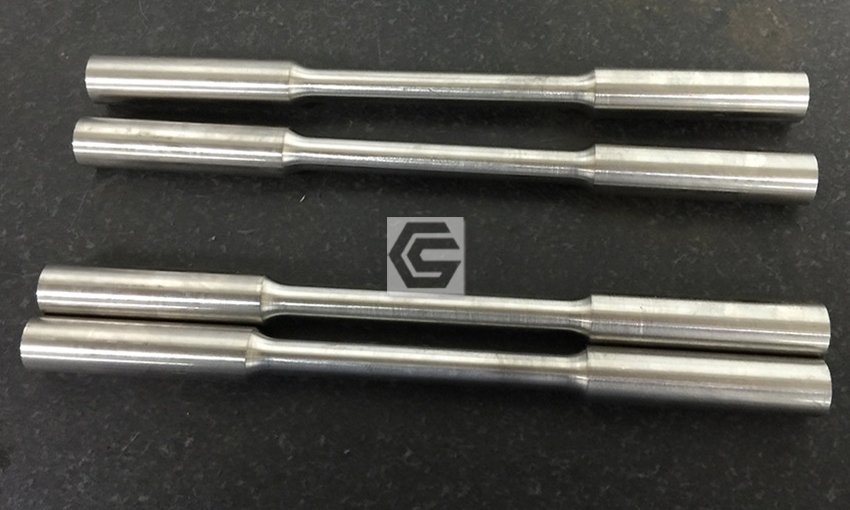 Tensile Testing Machine.
Tensile Bar.
Chemical Property
Each furnace sample is detected by the spectrometer and kept it more than a year. We can provide material certification to customers.
Spectrometer.
Package
Carton generally dominated by cardboard boxes that can be thicker layers in order to reduce impact injury in accordance with article.
Customized LOGO Special Box.
Use plastic bags or bubble bags by casting size or customer demand.
We can provide clamshell, rubber seal and PV cap etc.